Interview with Nils – Strategic Buyer
What makes Storch-Ciret so cohesive?
Storch-Ciret keeps strengthening its cohesion by throwing some unusual parties. With success: where else would you find the managing directors appearing in a themed party as Prince and Michael Jackson?
In addition to the celebrations, the informal "Du" (you) culture brought in 2.5 years ago is also one thing which stands out for me at the Storch-Ciret Group and has strengthened cohesion between my colleagues. I joined the Storch-Ciret Group, a large medium-sized company, from a small company where people worked more closely together anyway. It is also much more common in Asia to address customers by their first name. This situation is perhaps a bit easier for me than for the colleagues who have been using the formal "Sie" form for you for 20 or 30 years. For me, it was only a bit of a challenge with my boss at the beginning, but that would probably be the case for most people.
What's great about your job?
I trained as an industrial clerk at a small company, then completed the industrial specialist on the side, and then did a bachelor's degree course part-time. It was a time when I developed and specialised. In a small company, you're often responsible for lots of different tasks at the same time and I wanted to change that. At the Storch Ciret Group, I had the feeling that the position in procurement would give me the opportunity to become more specialised and also to travel internationally, because I also want to get to know other cultures.
Being a communicative interface, internally and externally, is a big part of the excitement for me. Expertise is important to me as are good products that are not just about prices, but about quality. I appreciate the independent work, trust and responsibility assigned to me for my area. At the Storch-Ciret Group, this also includes a healthy error management culture – I like that.
What challenges come with your job?
We're divided into operational and strategic purchasing. Operational purchasing is responsible for placing orders and procuring goods. In strategic purchasing, I'm responsible for supplier selection and price negotiations. The supply chain must work, so a lively exchange with the colleagues in operational purchasing is important here. We often also work together with colleagues from product development and are involved from the kick-off. This is important in order to be able to carry out the pricing and supplier selection at an early stage.
It's exciting to work in both the professional and the DIY sector. Both have different preferences and we must try to bring them into line with the Group's requirements. As a result of the coronavirus pandemic, much has changed a great deal, especially in our working relationship with the Asian market. Do our strategies still fit or do we need to readjust? It is important to keep an eye on countries and cultures in order to spot potential trends there early on. I currently see this as one of the biggest challenges.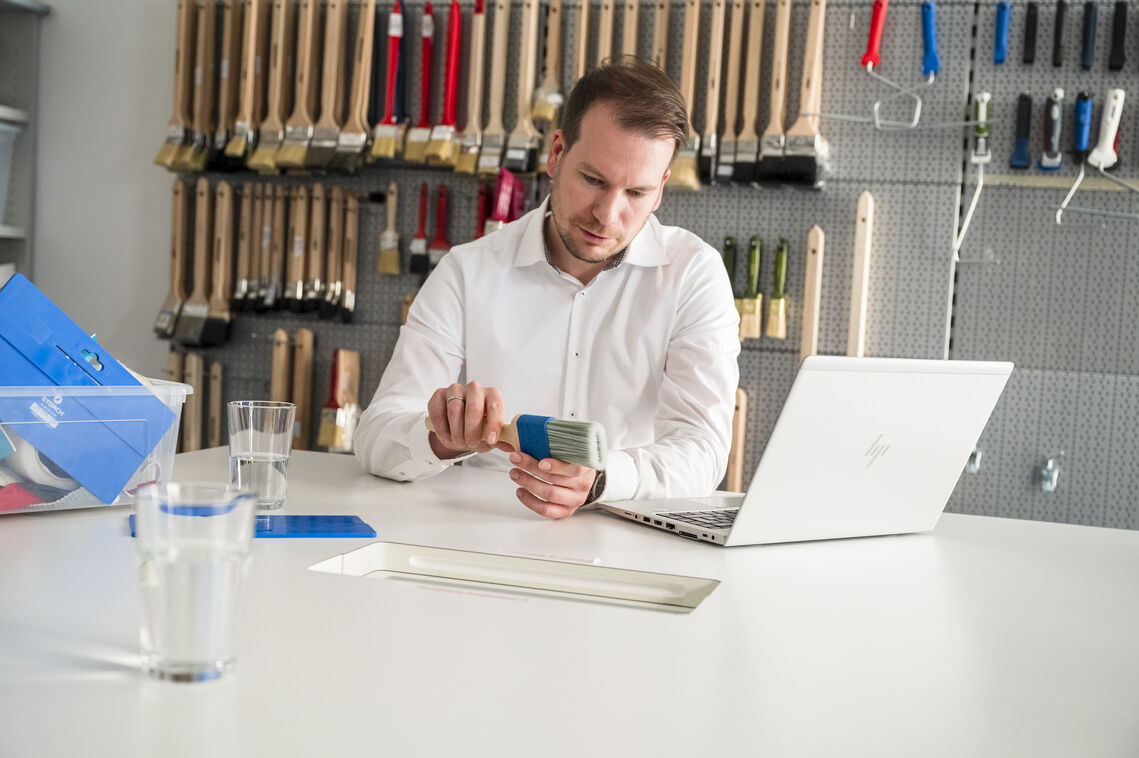 I'm close to product development, but also need to be in constant contact with suppliers all over the world and able to identify trends in the industry. There's a lot of personal responsibility, but also a high level of trust from Storch-Ciret.
What makes your team different?
In procurement, I have two other colleagues and my boss. We try to support each other as much as possible, especially in our team. We help each other, even if the task are not directly in our own area of activity or if we're otherwise busy.
We specialise in different product ranges, i.e. in our own product families, and it is also essential for us to discuss them, including for our own price negotiations.
Of course, we also have fun and laugh together, and we take a weekly digital lunch break to exchange ideas despite working from home. This gives us the opportunity to see each other and also to exchange ideas privately.
Why does your employer suit you?
The main thing is I feel valued as a person at Storch-Ciret. This was clearly demonstrated once again by the pandemic. After all, it was initially unclear to everyone how this time would go. Clear information and a sense of cohesion have removed many concerns.
Many of us have been working from home for some time now and in the meantime have received some packages from the company, including masks and disposable gloves for ourselves and our family, or vouchers for the children who have to cope without their parents at home.
Storch-Ciret also lets me find a good work-life balance. With the trust-based working hours that are standard at our company, I can also balance the care of my children with the challenges of my job. The flexibility within the company, also in terms of technical equipment, is a very decisive advantage.
I think these are important values for a family business.