Interview with Maja – Dual Study Programme
What makes Storch-Ciret so diverse for you?
Some of my colleagues and contacts have learned their job here, others are new. There are many different characteristics, strengths and talents, and yet they all come together, as you can take advantage of your opportunities here and contribute your ideas right from the start.
You quite clearly notice that everyone takes responsibility for the various tasks. What I mean is with the people I deal with I see how important a good result is to them despite all their differences. Of course, there rare always times when things get challenging, but everyone is still always concerned with creating something good at the end and everyone gives their best. To achieve this, the working environment has to be right.
What was your application process like?
In a nutshell, very pleasant and uncomplicated, especially in comparison with other companies. My application for the dual study programme was quickly replied to and I was invited to the assessment centre. I went into the building and felt comfortable. Sure, it was a test situation, but it wasn't daunting. I noticed very quickly that people need to get to know each other and the people I talk to want to know how I am doing as a person. In other assessment situations, you are left relatively alone in the time between the exercises, but at Storch-Ciret there was always feedback and an intensive exchange with current students and trainees of the company.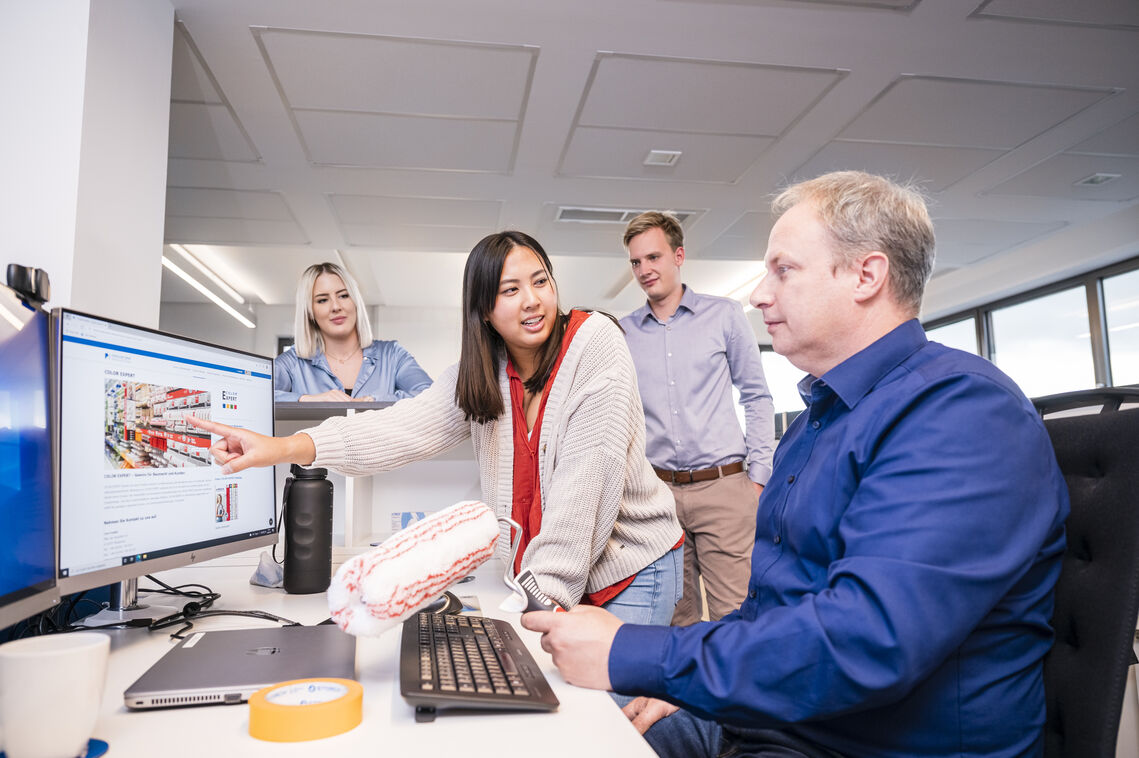 At Storch-Ciret, I found the right mix with the bachelor of arts business administration dual study programme – and a team with unusually strong cohesion.
Why did you decide on this training course?
My tasks are also very varied. I learn something new every day and I know that this will still be the case even after I've completed my dual study program: I've deliberately focused on business administration because it opens up so many different possibilities. At the same time, I really wanted to do a dual study programme in order to be able to apply what I'm learning in practice. Right from the start, I wanted to see what everyday working life looks like so that I could also contribute something myself. Today, after two years I can say I would do it this way again. When I compare myself with friends who "only" study, this mix of study and everyday work has given me much more freedom, makes me more independent and means I'm already earning my own money.
What is your typical working day like?
In the dual study program, there is a training coordinator who plans the various roles and you normally change every three months. But you can also ask to have your own area of focus or deepen your knowledge. I wanted to stay in marketing for longer and was lucky that this was an option at the time. I wanted to get to know the area in more detail myself. It's incredibly varied here and the feeling of diversity becomes even stronger because I'm at university (FOM) in the meantime and therefore have to plan my weeks very carefully.
What's great about your job?
Team cohesion is unusually strong. In the team, you simply feel there's a willingness to exchange ideas among colleagues and joy of being able to help each other. I sometimes hear from friends that, as trainees, they are primarily responsible for making coffee – this is not something that happens here. Here I get appreciation for the projects I contribute to, even as a student. And the pandemic has clearly shown me how well communication works at Storch-Ciret. The digital equipment we have at our disposal makes the situation and working from home easier, but the coordination processes and reaching agreement in the team also work at all channels.