Interview with Gunnar – Senior Controller
What was your application process like?
Contact with Storch-Ciret was made through a recruitment consultancy. The recruiter missed my interview at Storch-Ciret because he was stuck in a traffic jam. But I had an excellent chat with the then Managing Director of Storch-Ciret Holding GmbH and the Head of Controlling. In a friendly atmosphere, we exchanged ideas at great length at a professional and personal level for almost two hours. This was followed by two further meetings, also because I was supposed to get to know other parts of the management who I would be working with a lot in the future.
Why did you choose this job?
I liked the idea of being able to design more here. The structures in the divisions have not solidified – it's possible to develop and grow here. The company is also growing. That's what I missed from my previous employer.
Storch-Ciret is very dynamic. I got that feeling from the job interviews and it was confirmed. My expectations were even exceeded. For me, the new job was also accompanied by a change in the industry. This opportunity to broaden my horizons was also a great incentive for me.
What is your typical working day like?
In controlling, no two days are alike. Obviously, some activities, such as monthly financial statements and reports, are repeated. Otherwise, you're faced with new tasks almost every day and have to see where action needs to be taken.
In my position, I work as an interface between departments, managing directors and senior managers. I look at and condense information and search for errors in processes when something is not working well. No routine can be developed for this. What I like is that, as controllers, we not only move numbers back and forth, but also try to map processes and events in such a way that they can be evaluated. With the conclusions drawn from this, we then become a strategic sparring partner for management.
What's great about your job?
Variety plays a major role for me and that I get to know the company very well and in many different ways through my work in controlling. I'm very close to the decision makers who also have an open ear to problems. This gives me the feeling that I can contribute and help shape topics. I experience developments in the company and can directly observe which decisions have what effects, which is really exciting and fulfilling for me in this job.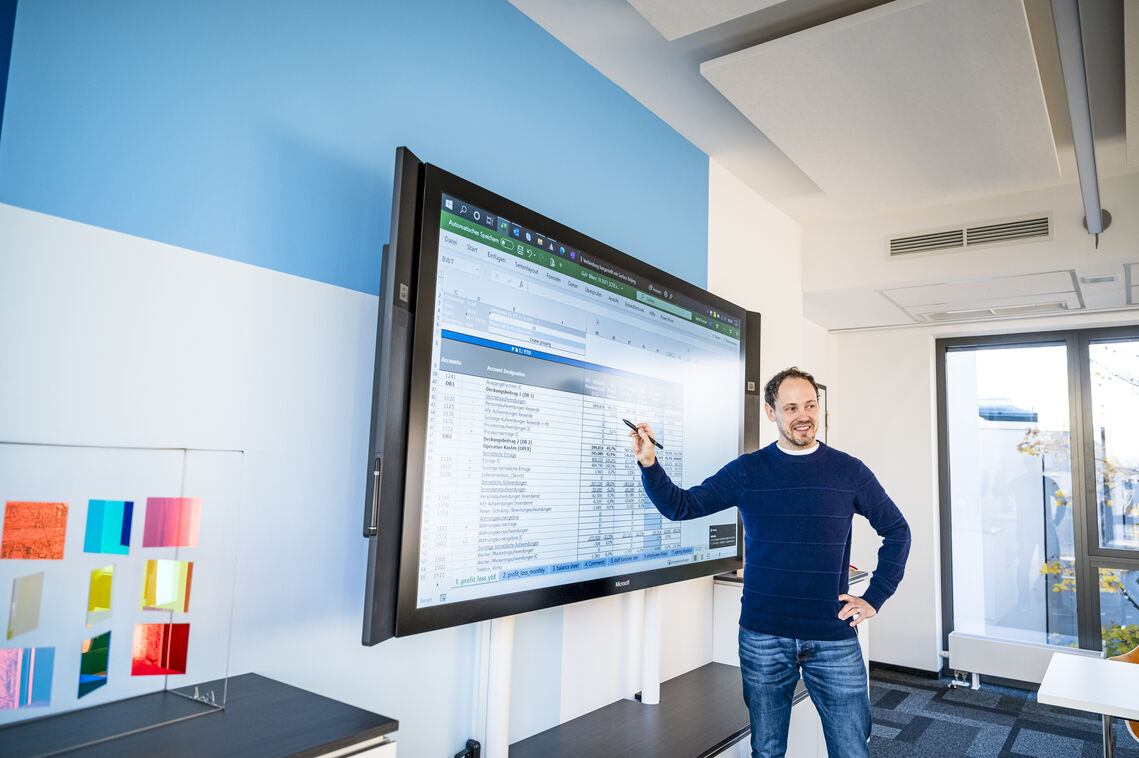 At Storch-Ciret, this is facilitated by flat hierarchies and our open-space office. We have short paths and can develop things together. Even ourselves – I also work on our own projects within a talent pool.
What challenges come with your job?
Due to the constant changes, I have to react very flexibly and remain dynamic. That's what I really appreciate and also see as a challenge.
It's important to find a balance between the individual processes and company divisions. Problems must be localised and solutions derived from them. At the same time, I would never have thought that painting tools could be so varied. The deeper I dive into this industry, the more it inspires me.
What makes your team different?
Our controlling team is young and dynamic. At the age of 39, I'm already one of the older people, along with my supervisor. Everyone is committed to making a difference together and also fit together well at a personal level. It's a bit more difficult during the coronavirus pandemic, but even then we managed to organise events like a digital wine tasting with the group after work.
Why is your employer a good fit for you?
What I like are the flat hierarchies. For example, the management team sits with us in an open-plan office. I never experienced that, and it means much shorter distances. I appreciate this proximity and feel we're developing something together – I enjoy this process. Our office building in Wuppertal is modern and very well equipped from a technical perspective. I very much welcome the accelerated trend of being able to work from home due to coronavirus. This is very beneficial to me - I'm a young father - when it comes to childcare, as I get to spend significantly more time with my child and can still be flexible in my work performance. Overall, Storch-Ciret offers a very good work-life balance.
How do you rate the design options at your employer?
Storch-Ciret offers the opportunity to develop as part of a talent pool. As a member of the talent pool I have a mentor. Together with him, I've got the opportunity to develop a goal and then my own project. Whether this is specified or – as in my case – submitted by myself, does not matter. Right now, I'm starting on this and the goal is to acquire my own project management skills during this task.