Interview with Anke – CDO & Head of Group IT
Why does Storch-Ciret offer such a great deal of design leeway?
I feel I can be genuine here. If an employee is genuine, it means the others are genuine, and acting authentically takes far less effort than by concerned to avoid mistakes. And authenticity enables quick decisions, fast learning, avoids wasting energy on hide-and-seek games unnecessarily and makes it possible to fast be effective. This boosts the self-confidence of the entire company to become or remain a world market leader on its own. With a worn-out team that's always afraid of making mistakes, you're no longer going to do anything. I can see ideas are welcome and that we're all called upon to not only think about them, but also to be able to address them.
What's great about your job?
Before coming to Storch-Ciret, I was purpose-driven in my start-up plans – I wanted meaningful forms of cooperation and a company that recognises the viability of this type of organisation. Many companies still believe in outdated concepts for reducing personnel costs. Today, I'd venture to say that an organisation can get by with 25% of the employees of a traditionally managed company if it relies on meaningful forms of collaboration and enables fear-free learning and action. Things such as a sense of belonging are never outdated. The great thing about my job is that I can try out ideas about organisational development in addition to my exciting technical areas of responsibility. As a manager, I see it as my role to create the environment for my teams, to be able to contribute the best of themselves on a daily basis and thus enable the company to grow economically.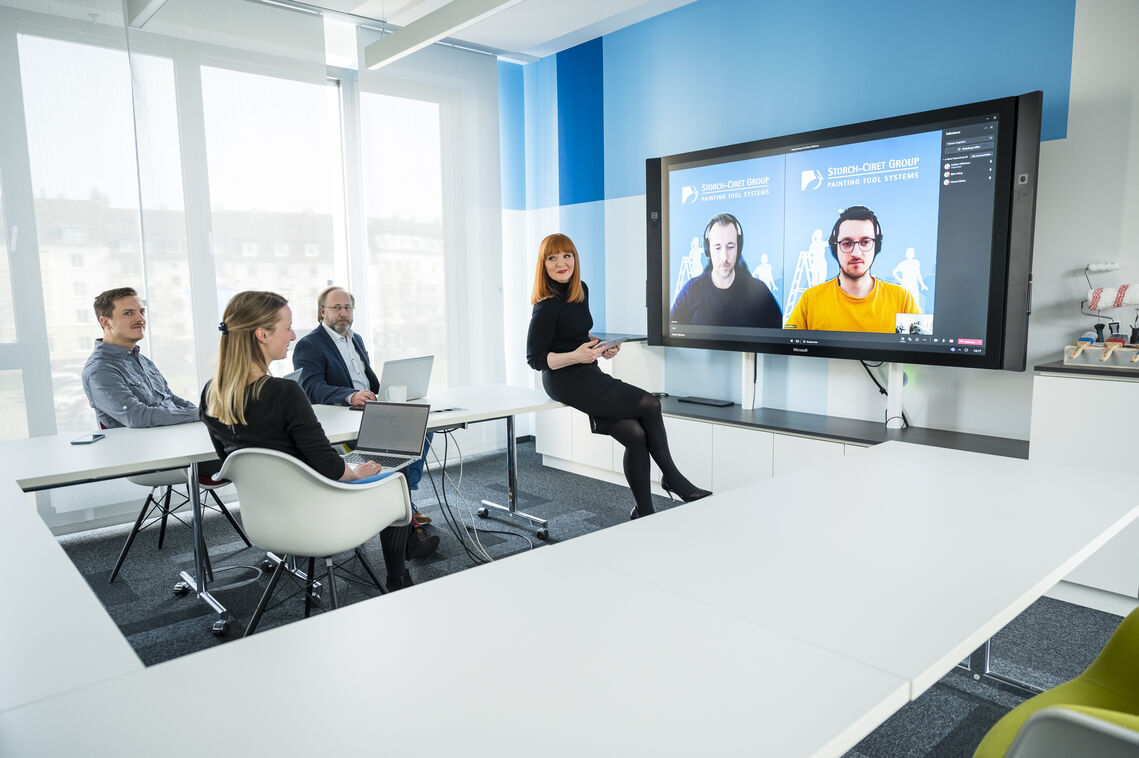 That's been my experience at Storch-Ciret. In addition to my tasks, I can also contribute ideas for modern organisational development – in an appreciative team and in a company where clarity in communication is important.
What challenges come with your job?
The challenges in managing IT areas seem similar in all companies: if everything works smoothly, IT is virtually invisible. Complex risk minimisation is barely visible outside IT. Coronavirus has challenged us a lot here – which is why we're proud to have made the switch to 90% flex office possible at very short notice.
My top employees are reluctant to be in the limelight – but it can be hard to give them sufficient appreciation for the complex tasks – especially during a period when we don't meet up in person much.
IT is and remains a cost-intensive division. The balance between a desire to innovate and achieving the budget is and remains a challenge for IT management. This is due not least to the growing cybercrime attack paths that all companies are exposed to and require a lot of resources to defend against.
What makes your team different?
My IT departments typically have a small number of employees who value each other, have worked together for a long time and trust each other. We selected the new employees together and placed particular emphasis on matching them.
I see a team that wants to be convinced of the meaningfulness of tasks – and not about "power". A genuine feeling of belonging together is quite evident, as is the willingness to look after a wide range of topics. The stronger we grow, the more focal points are formed – yet we pay great attention to avoiding silos in IT. I'm fortunate to have a top expert level in the team, with vision and openness to new things and beyond: really nice people.
Why does your employer suit you?
Because I can experience a congruence with the goals and values of the company and the goals I personally feel. These are commonalities that were simply there before I started here and that go beyond business. Values are taken seriously, have been explicitly redefined and I can act according to them quite naturally because I feel connected to them: passion, curiosity, sustainability, reliability and team spirit.